Touch down in Islamabad. Arrived after one of the biggest tropical storms they have had this summer, delaying are landing causing us to circle around a turbulent sky. Walking out of the plane was like walking into a greenhouse, lucky for us the rain had cooled the air to a semi bearable temperature, after 45'c the day before! We met our agent anwar and caught the bus to our hotel to finish what has been a relatively trouble free trip.
The potential for things going wrong were pretty large. Allowed only 30kg of luggage each we were probably on average 8 kg's over each but using a couple of ski bags, Lots of shuffling around of luggage, we managed to avoid excess baggage charges which, as we know from previous trips can be crippling! (Henry - £500 Iran.)
Another issue causing us concern was the 19,000 dollars we had to take in cash to pay our agent for services and the ministry for our helicopter bond. We counted it out in our hotel room feeling more like a game of monopoly rather than the equivalent of a house deposit or wedding costs. All handed over, no problems.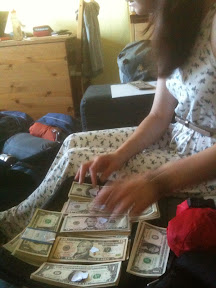 We were introduced to our liaison officer and the two spaniards who will be part of the expedition. They seem like a good bunch, up for a laugh.
On to skardu tomorrow....